Introduction
We are number one, you are a pirate, and no one is lazy in Lazytown. Does this sound familiar to you? Well, there once was a show that started in the early to mid-2000s. The show is called Lazytown. This show is popular and grows more audience as the years go by. Let us examine the show and give a review to see if it is worth watching?
What is Lazy Town?
Lazy Town is a show that was created by Sportacus himself, Magnus Scheving. Before Lazytown, Magnus was an Aerobic gymnastics champion during the 90s and he was named Icelandic Sportsperson of the year in 1994. Magnus Scheving is also a motivational public speaker.
The main purpose of Lazytown for Magnus Scheving is to have a role model for children to promote a healthy lifestyle through exercise and diet.
This is good because Magnus Scheving is athletic and has a vast knowledge of sports science. He always promotes a healthy lifestyle for children and created a good role model in Sportacus.
Lazytown started out as a tour live show. It became a success in Iceland that it grew into a TV show and it since has grown popular with children.
Now that we know some history of Lazytown, let us look at the show itself.
Characters
Lazytown is known for its character. They are different in personalities and interests. However, they work together to make Lazytown fun but also crazy.
Here are the characters from Lazytown:
Sportacus:
He is the main protagonist of the show. He is considered as a "slightly above average hero" rather than a superhero. Sportacus is the character who came to Lazytown with the request of Stephanie to help Lazytown make better healthy choices while also assist in solving some problems that occur in each character. What makes Sportacus a unique character is how he performs his exercise. Watch him and you will be both impress and jealous that he can do these movements fluently.
Stephanie:
She is a new person in town for a vacation with her uncle, Mayor Milford. One of the main things Stephanie does is dancing. She sings most of the songs in Lazytown. Her appearance is associated with pink. She has pink hair, wears a pink dress, and pink shoes. Stephanie has a sweet yet encouraging personality towards her friends and her uncle Milford. She cares about her friends and loves them while also helps to encourage her friends to be more active than lazy.
Ziggy:
One of the main people from Lazy Town. He is the first person to meet Stephanie and became great friends. The main thing that Ziggy does is eating candy and sweets. Despite this, he always does anything for his friends. He looks after Sporticus as a role model to help himself overcome obstacles in Lazytown. He wears a superhero outfit with a cape, which explains why he wants to be like Sportacus.
Stingy:
He is another one of the main people from Lazy Town. Stingy is considered one of the most self-centered characters ever. The guy always proclaims something whether it is a treehouse, sports equipment, or other valuable thing is his, or in his words "Mine." I considered him as an anti-hero of the show. He does value his friends, but he is one of the most selfish characters that want more values for himself than others.
Pixel:
Another main people from Lazy Town. He represents someone who spends a lot of time playing video games and nothing else. Although Pixel does help the gang by creating unique inventions that benefit, it can also cause trouble. He spends most of the time playing video games. Luckily, when Stephanie and Sportacus came to town, Pixel was able to step out of his comfort zone and start to become more active and spend less time playing video games.
Trixie:
The main people from Lazy Town who is the only female in the group with Ziggy, Stingy, and Pixel. She represents a typical tomboy, behaving, and acts as one of the boys. She is best friends with Stephanie. Trixie would sometimes take a leadership role when it comes to different things going on in Lazytown. She may be tough but loves her friends and do anything to help them.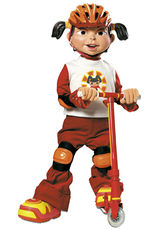 Robbie Rotten:
The main antagonist of the show. His main passion is making sure that Lazy Town remains lazy and getting rid of anything involving healthy foods and exercise. In most cases, he was able to accomplish it. Only temporarily due to Sportacus and the Lazytown friends who were able to turn the situation around and expose Robbie Rotten and defeat his schemes. One of the funniest characters in Lazytown and one of the most recognizable characters, especially with songs like "You Are a Pirate" and the most popular Lazytown song "We're Number One".
Mayor Milford:
He is the person who is Stephanie's uncle and keeps Lazy Town in place. Mayor Milford helps run the town with an open-minded perspective with respect to Stephanie and Sportacus. He is always willing to help Lazytown being a place where you want to stay. Although he is somewhat clumsy and lacks some intelligence, he has a good heart and has become a great supporting character.
Miss Busybody:
An assistant to Mayor Milford. She has a weird affection/crush for Mayor Milford. She loves to use her phones to call Mayor Milford or other business affairs relating to Lazy Town. Despite the fact, she is willing to help Lazytown, Miss. Busybody is lazy because she does not do a lot to help. She usually spends time laying down and enjoying herself without doing more work with Mayor Milford.
Warning spoilers: The usual plot
The plot for many episodes of the show goes like this.
First, Stephanie and her friends (Ziggy, Stingy, Pixel, Trixie) will do some type of physical activity. Then Robbie Rotten will try to do whatever strategies that he will use to not only get everybody lazy in LazyTown but also ban Sportacus forever. Troubles will ensue within the characters. However, they will come together and overcome their troubles and defeat Robbie Rotten for LazyTown to stay happy.
Here is the playlist of episodes you can watch
Every episode ends with the song "Bing Bang" and that classic dance. It is a good song to dance to. Feel free to learn it or improvise the dance on your own.
Music
One of my favorite highlights of the show is the music. It's catchy beats, sing-along melodies, and great lyrics is what makes Lazy Town songs outstanding. Even if you have no interest in the show and the plot, you must admit that their songs are good to listen to and brings joy.
Most of the songs are motivating and inspirational through the lyrics. Some songs focus on certain characters like Stingy with his Mine song and the popular "We are Number One" song from Robbie Rotten. It may take a couple of listens, but you will not be disappointed at the songs. They are good and it may end up on your playlist.
Here are my personal favorites:
Have You Ever
Galaxy
Teamwork
Time for The Show
Anything Can Happen
Good Stuff
Always a Way
Never Say Never
Playground
I Can Dance
Twenty Times
We are Number One
You Are a Pirate
Dancing on The Moon
Other songs are good. Give it a listen from this video.
Extra features
The interesting thing is that Lazytown has an extra feature episode that targets different subjects from running to sports candy. This helps to promote children's healthy lifestyle choices outside of the plot of the show. The order of extra feature episodes is different from odd and even number episodes.
Extra episode features
It starts off with Sportacus showing off some of the moves he shows you and guides you to perform them with form and technique. Then Ziggy travels to hang out with children with activities highlighted by the title of the extra episode. Ziggy talks with them, observe and ask them questions for understanding about their respective activity. Mayor Milford and Miss. Busybody does news broadcast on various topics relating to health.
Stephanie does her segment where she teaches certain dance moves to some Lazytown songs to get you off your feet and dance. Another segment Stephanie does is with Trixie who hangs out at Mayor Milford's house and does whatever activities they do. Mayor Milford and Stingy do their segment where they have a conversation about the importance of health and well being based on the extra episode title.
Sportacus does a segment with Pixel to answer fan questions and challenge him to perform something to show off his skills. Sportacus also does a segment guiding the children to do movement to keep them active and healthy.
Overall, the extra episode is good to lead children into an active and healthy lifestyle through various sports and other health topics.
Can this apply to adults too?
Although this show mainly targets its main audience, children, can this apply to adults too? The answer is yes. Adults can be encouraged in the show to exercise and eat healthily.
Unfortunately, many adults do not make enough time to get into daily physical activity and making a healthy diet. Lazytown is helpful to go back to basics to make progress to improve health and fitness. Don't be afraid if you are an adult reading this. It is never too late to start over and make progress.
Conclusion
Lazytown is the show that I wish there is more of. I like the show because of the characters, the music, and the concept of teaching children and adults how to be active and make healthy choices. I recommend this show to children even during this pandemic.
Thanks to Magnus Scheving for bringing healthy lifestyle choices for children and also bringing great characters and music as well.
Rating: 9.5